AEVI and the Fundación ONCE launch a guide to foster accessibility in video games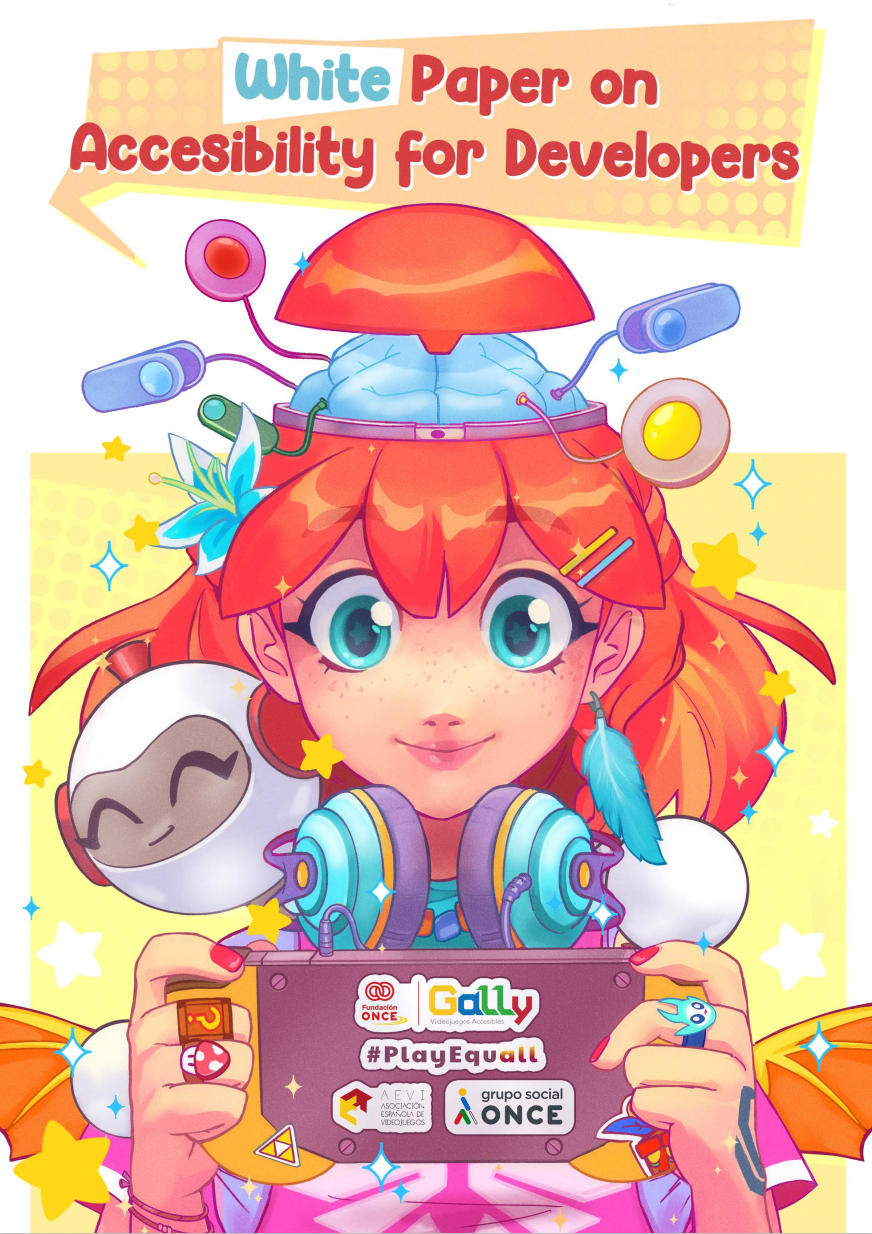 More than 3 billion people play video games worldwide of which 400 million have some form of disability. The video game sector is working towards universal accessibility and the inclusion of people with disabilities in the world of video games.
The Spanish Video Games trade association (AEVI) has published, in collaboration with the Fundación ONCE, the white paper on accessibility for video game developers.
The document sets out the best practices to increase the level of accessibility in the development of a video game so that everyone can enjoy playing video games.
The Spanish Video Games Trade Association (AEVI), member of Video Games Europe, in collaboration with the Fundación ONCE, a Spanish organisation that is an international reference in the inclusion of people with disabilities, has launched the White Book on Accessibility for Developers, in English and Spanish. The aim of this resource is to provide a guide that serves as a reference for developers on accessibility measures in video games. It will, for example, help determine how difficult it is for studios to implement them while also, raise awareness about accessibility and disability associated with video games. It gives answers to questions such as: What does a person with a disability need to play video games? Is it difficult to implement the co-pilot model? Are all accessibility measures equally necessary? And much more. 
The White Paper on Accessibility for Developers includes a total of 61 measures, measures distributed in five categories, according to their degree of difficulty of implementation. These range from the use of easy-to-read alternative typography, colour-coded information, screen reader or assisted aiming systems.
«We want this publication to be the reference document for developers and video game studios that wish to make their titles more accessible so that they can resolve their doubts about the measures that benefit people with disabilities, as well as access instructions on how to implement them from a technical point of view», says José María Moreno, General Director of AEVI.
For José Luis Martínez Donoso, General Director of the Fundación ONCE, this «White Paper on accessibility for developers» will allow all agents involved in the creation of these products: analysts, designers, developers, testers, scriptwriters, marketing and advertising, among other professions and departments, to take into account the measures that ensure that video games reach the minimum level of accessibility, so that the greatest number of people can enjoy this ecosystem.
In many cases, the accessibility barrier does not come from the videogame itself, but from the controllers. For this reason, the authors of the guide provide information about the most relevant peripherals on the market.
The book can be downloaded free of charge from AEVI´s (see) or the Fundación ONCE´s (see) websites.
AEVI and the Fundación ONCE started their collaboration in 2022 with the project 'Ga11y: accessible video games', launched by the foundation to promote the accessibility and employment issues in this economic sector. The project includes the website Ga11y, which includes information about the level of accessibility of different video games for various platforms. 
About ONCE
The Fundación ONCE for Cooperation and Social Inclusion of People with Disabilities was created in February 1988, by agreement of the ONCE General Council, and was presented to society in September of that same year as an instrument of cooperation and solidarity of Spanish blind individuals toward other groups of people with disabilities for the improvement of their living conditions.
About AEVI
The Spanish Video Games Association (AEVI) is the main video game organisation in Spain. AEVI represents more than 80 companies and academic centres that generate most of the jobs in the sector in our country and represent 90% of the Spanish market consumption: Asociación de Clubes de Esports (ACE), Artax Games, Atlas Informática, Bandai Namco Entertainment, Best Ride Simulators, Didactoons, Drakhar Studio, Electronic Arts, ESL, Friday Mood, GAME, Gammera Nest, Gaming Residendes, Galigames, Gato Salvaje Studio, GGTech, Kaiju Entertainment, Killbug Studio, Koch Media, Liga de Videojuegos Profesional, LuegoLu3go, L3TCraft, Mercury Steam, Meteorbyte Studios, Microsoft, Mindiff, Miru Studio, Msi Simulation, Naduku Games, Nintendo, Novarama, Orenji Games, Outright Games, OXiAB, OWO Game, Open House Games, Patrones y Escondites, Petoons, Piccolo Studio, Pixelatto, Possible Lab, Recotechnology, Riot Games, Saona Studios, Secret6, Selecta Visión, Sony Interactive Entertainment, Take Two Interactive, The Longest Road S.L, Troglobytes Games, Ubisoft, Warner Interactive, 1UP Games Studio, Gameloft Barcelona, Vermila Studios, Romali Futura Informática, Peritus Ciberseguridad y Globant; y los centros académicos Creanavarra, ESNE, ESIC, EVAD, Rendr Escuela de Videojuegos Master D, Squarebox, CPA Salduie, Universidad Complutense, Universidad Isabel I, Universitat Jaume I, Universidad Internacional de Valencia, Universidad San Jorge, Universidad de La Coruña, Voxel School, DigiPen, Tecnocampus Mataró y 3DSoulSchool.
For further information:
LLYC – AEVI – aevi@llorenteycuenca.com